These Sustainable Fashion Advocates Share Their Favourite Ethical Finds
The world of social media means that we are often turning to the likes of "influencers" and other notable creators as a means for fashion inspo.  But who are the people doing this in an ethical way? We speak to 6 incredible, sustainable fashion advocates who share what it is that piqued their interest in sustainability and the story behind their favourite ethical piece…


Andrea Cheong, Content Creator & Author 
Tell us about yourself?
I teach people how to shop better for the planet and their mental health. I started doing reviews of clothes in-store in 2019, every Monday. It became a series called "The Mindful Monday Method"  that turned into a 5 step guide.
Where are your favourite places to shop in a more conscious way?
After just over 4 years of honing the Method and really practising what I preach I have such little desire to shop fashion at all. When I do, it's always IRL unless I'm incredibly familiar with the brand and have reviewed them several times, I trust their claims and the material composition checks out. 
The things I get most excited by are discovering independent brands that do their most to operate beyond the mainstream model of fashion – so they don't adhere to the constant need for drops/ they are super committed to not using plastics recycled or not/ their quality remains consistent in spite of scaling as a business.  

That's not to say that mainstream brands don't do a good job, my method is about being able to identify the best wherever you choose to buy from. Personally, my favourite way to buy consciously, at present, is looking for special vintage pieces from designers. Once you know how the pricing models work, how manufacturing is done etc. you start to appreciate alternative ways to shop a lot more than before.
What is the story behind your favourite item of clothing?
My favourite piece in my wardrobe is actually one that I don't get to wear that often. I am all about cost per wear. I'm all about using your clothes, I never ever advocate "Saving" it for a special occasion (bar the first time you wear your wedding dress or equivalent). But it's a vintage Yves Saint Laurent bright pink jacquard coat with diamantes on the buttons. It's absolutely insanely stunning. It was probably the second vintage designer thing I bought and it was really risky because I was new to the whole thing and just went for it based on pictures but it paid off!
OluwaSeun, 
Styling Art Director & Content Creator
Tell us what started your love for fashion? 
I've always been a fashion lover. From watching Fashion TV on a loop, to creating cool outfits for my Barbies using plastic bags – I always knew fashion would be a big part of my life, although I had no idea it would eventually become my career!
I've been a Stylist & Art Director for the past

 10+ years, working in the Luxury E Commerce sector, and it really opened my eyes to overconsumption and wasteful practices. Over the years I intentionally become more mindful with my spending habits as it pertains to fashion, and I actively choose to shop second-hand where possible. It's not always possible, but I'm only human!

We know you love a thrifted find, tell us about your favourite piece? 
I have way too many vintage and preloved items to name one favourite, but if I had to choose, it would be my vintage Burberry trench coat that I won on ebay for £53!

Where are your favourite places to shop in a more conscious way?
I can never walk past a charity shop without walking in, it's become somewhat of a (bad?) habit! I love to trawl through my local Mind, TRAID and Crisis charity shops as I get on really well with the staff and I always find amazing gems. I actually have a "Come Thrift With Me" series on my socials where I share my favourite thrifting/ second-hand shopping spots.
For online shopping, I like to browse sites like Finds, Depop and Thrift Plus, however, eBay is my number 1.
Monika Poppy, Strategic Content & Communications Consultant
Tell us about your journey with sustainable fashion? 
I work as a Consultant on sustainability and luxury communications and have been doing this for 6 years. I started my sustainability fashion journey during my studies of sustainable development when I decided I wanted to help others shop more sustainable through blogging, with my main audience being based in big cities where luxury and trendy fashion was of high interest but there was no alternative inspiration to the typical influencers, from there I got into consulting brands on their campaigns and marketing strategies. 
Tell us about some of your favourite places to shop?
My favourite piece is my second hand vintage Jean Paul Gaultier blazer, it's an iconic piece of fashion that I found in a small second hand store in Rome! My favourite way to shop is second hand. Every time I travel I make sure I visit at least one second hand store rather than focusing on the traditional shopping centres and stores. If I am at home in London I try to split my shopping into 50% second hand and 50% conscious brands.
Luckily now there are many tools on sites such as Net- a-Porter or Selfridges that help with the filtering of items to be more sustainably progressive but it's important to read the full description of the product to understand exactly what is the sustainability angle and if it truly is progressive of just green washing. My favourite items are the ones using new and innovative technology to produce garments that are more sustainable
Victoria Lee, Sustainable Stylist
So Victoria, tell us a little bit about yourself and your role as a stylist?
I'm a sustainable stylist based in Glasgow. I started my career in Fashion by owning a mini Fast Fashion boutique, before quickly realising I was part of a massive issue! After receiving a message asking where a particular garment I was selling was made & then researching how horrendous the FF business model was to both people and the planet, I donated all remaining stock to a local youth organisation and took online courses on both sustainability in fashion and fashion styling. From there I set up numerous services to help people find their personal style, enjoy fashion, and show the world that sustainable fashion is the way forward. Amazingly, after only being a stylist for just over 3 years, I was awarded Stylist Of The Year by The Scottish Fashion Association for engineering a business system that is regenerative and dedicated to advocating circular business structures in February. 
What is your favourite piece in your wardrobe and why?
My favourite find HAS to be my magenta pink vintage Jacques Vert suit! I had spotted it in a local charity shop, the colour and texture of the material had me swooning but I left without it!!! But I couldn't stop thinking about it, so I went back the next day to buy it and thankfully it was still there. The suit has been to pretty much every occasion you could think of, and if I'm feeling a bit low, it's a sure-fire way to inject a bit of happiness into my day!
Where are some of your favourite places to shop?
Charity shops will always have my heart! I do adore the secondhand apps, they're really useful for specific items, and during the lockdowns when charity shops were shut I used them loads for work. But nothing compares to the thrill of the thrift! I also shop with sustainable and ethical brands where I can too, it's important to support the brands that are actively trying to make a change in the industry!
Harriet Saywood-Bellisario, Founder of Saywood
Tell us about a beloved piece that holds a special place in your heart?
I think one of my favourite finds and a meaningful piece to me is a vintage Maison Margiela PU Maxi Skirt that I have in my wardrobe. It's perforated all over and has a really full hem; it's quite dramatic. It's not a piece that I break out often, but when I do I feel really special. I bought it from a vintage shop from Portobello Road, on Kensington Park Road – I remember the day: I'd gone shopping with my Nana and her best friend Linda. They absolutely love shopping, as did I, and it was just such a fun day out. I had no money to spend that day, I was a student, but sometimes you just know you'll regret it if you leave without it… I could always take on some extra shifts at the restaurant (my job whilst studying). So I bought it on my credit card, and I remember my Nana and Linda were just so excited for me. I wore it to the Westfield 5th Birthday celebration in collaboration with Net-A-Porter when I worked at Richard Nicoll – Grace Jones performed, it was a very intimate space, so it was amazing to see Grace Jones up close like that. My Nana is no longer with us, so it's one of those pieces that really holds quite a special memory.
My favourite places to shop more consciously are Portobello Road for vintage (on a Friday) and sometimes discovering new designers. I love Liberty for everything being in one place. It's definitely an investment piece type store, so whilst not every brand will necessarily have sustainable credentials, the pieces are made to last and take time to consider the purchase. And just stumbling across amazing small boutiques; I'm always on the lookout, you never know what you might find.
Besma Whayeb, Blogger & Founder of Ethical Influencers
How did you get into the sustainable fashion space?
I write the sustainable fashion blog Curiously Conscious, and I founded the Ethical Influencers network. My interest in sustainable fashion sparked when I was living in Paris as part of my undergrad, and realised that there's an importance to knowing where your clothes come from, just like knowing where your food comes from. The more I looked into it, the more horrified I became. Nobody should die for fashion, so I started changing how I bought clothes, and posting about it online.
Tell us about your favourite piece?
I found this vintage wool coat on eBay a number of years ago, and decided to take the plunge on it as it was only £20. What arrived was a huge package, and an even bigger coat! I realised very quickly I had found a real gem – the coat is a wool and cashmere blend, that would retail for more than £300 now – and at the same time, that I needed to alter it to truly make it wearable.
After a £20 fix at my local tailor, the hemline is now shorter and fits my short 5'5" stature, and I've worn it every winter since. I learned a lot from it: that vintage sizing is different to today's sizing; alterations are worth the investment; and, that buying second-hand is not just better for the planet, but it's better for my pocket too!
Tell us some of your favourite places to shop more consciously?
I tend to shop 80% second-hand, 20% new. I spend far too much time curating wish lists on Depop, Thrift+, Vestiaire Collective and Vinted, as well as dedicating afternoons trawling around Brighton's charity shops. I also have a few favourite sustainable brands I'll peruse from time to time (Boyish Jeans, Ninety Percent, Sezane), but often only if I'm looking for one thing in particular and can't find it new.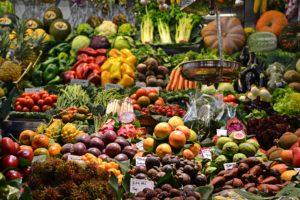 How can we improve our food systems to make them work better for us and the planet?
Read More