10 Sustainable Restaurants To Make You Click "Book Now"
Living sustainably can be defined in many different ways, from the clothing choices we make, to being mindful of overconsumption. Food plays a huge part in our everyday lives and any small steps we can take in relation to eating more locally sourced, organic food produce, can play a huge role in being kinder to the planet and our bodies, by reducing import emissions and the over processing of foods. There are many London based cafes and restaurants successfully leading with this ethos that we would love to celebrate, opening a world of possibilities for organic, plant-based and gluten-free eating!
Whether you're looking for a cosy dinner vibe, or a quick nibble for brunch, we have you covered. There is something tasty you can stumble upon for a bite to eat. 
For a fancy soiree … 
The Clerkenwell Kitchen 
The Clerkenwell Kitchen specialises in simple European menus, using high quality food produce, from small-scale artisan producers, who share a commitment to traditional farming methods and fair trade practices. This European eatery also offers tailored menus to meet the requirements of specific events, taking budget into account. We love this space for casual lunches, but also exciting launches !
Location: Clerkenwell
Wave 
Wave, aka "We, Are, Everything, Vegan" is an entirely vegan, beautiful space co-founded by two best friends, Cait and Soph. Finding vegan options in a restaurant can often be limited to a couple of dishes that may not even fit your tastes, however at Wave, everything is up for grabs to feed your cravings and even introduce your non-vegan friends to plant based eating. It's a win-win from us!
Location: Hackney
Website: https://weareveganeverything.com/
Frizzant 
Café by day and restaurant by night, Frizzant embraces the Italian concept of agriturismo, which is centred around enjoying local food from the land. Frizzante's dishes give diners an authentic taste of Italy while all produce is in fact sourced from the farm across the road in East London. This Hackney based cafe gives Italian authenticity an East London twist. 
Location: Hackney 
Website: https://www.frizzantecafe.com/
Our Favourite Brunch Spots…
The Good Life Eatery
The female duo behind the 'The Good Life Eatery' wanted to bring something new to the table. Providing a locally sourced Brunch menu, they firmly believe that local food is even better than organic to avoid transport importation emissions. There are three locations to choose from, varying in capacity to accommodate your brunching group sizes.
Locations: Chelsea, Marylebone, St Johns Wood
Website: http://www.goodlifeeatery.com/#about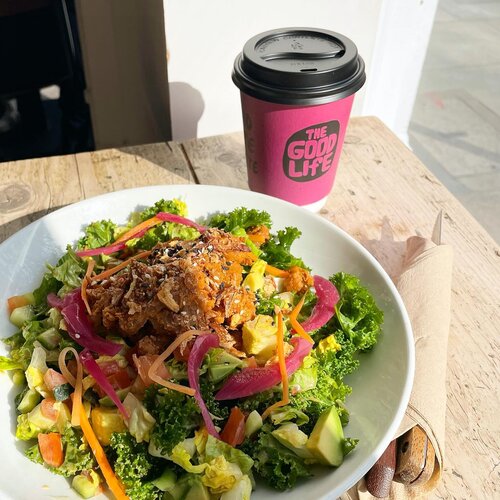 Farm Girl 
Farmgirl first opened its doors three years ago out of a desire to bring Melbourne's vibrant brunch culture to London, and now has three branches across the capital. The aesthetic café specialises in organic and locally-sourced ingredients. Farm Girl is a great place for a wide range of plant based and gluten free options. 
We personally love their array of Matcha Lattes, a must for a quick cafe pit-stop ! 
Locations: Notting Hill, Soho & Fitzrovia
Farmacy 
Farmacy is a gorgeous brunch / early evening dinner space with an interesting focus on sustainability. Farmacy, as the name suggests incorporates mindful biodynamic ingredients from organic farms. Not to mention the mouth-watering dessert menu which offers sweet treats made from scratch, without any refined sugars or chemicals. In a society where a variety of dietary needs are becoming more spoken about, this is a creative and accommodating option for those who are conscious of blood sugar regulation, or simply mindful of alternatives that reduce their amount of processing and chemical intervention. 
Location: Notting Hill
Website : https://farmacylondon.com/
Better Than Your Average Cafe…
Bodyism 
Bodyism is a café championing the power and nourishment of superfoods. Boydism offers a variety of protein rich drinks and dishes designed to boost your health and be kind to your body from the inside out. 
Take your gluten-free friends here, they will thank you for it! 
Location: Notting Hill
Website: https://bodyism.com/cafe/
Greenspeares

Greenspeares is an independent, family-owned Deli & Kitchen, providing high-quality, seasonal British food that is responsibly sourced and inspires conscious dining. Their seasonally changing menu brings life and creativity to their dishes and options as the year goes on. Greenspeares is a lovely venue offering cosy or bright open spaces to meet your tastes, including personal afternoon tea or work event catering. This family-owned space feels exactly that with nourishing meals that can bring you a home away from home when you need it.
Location : Belgravia
Website: http://www.greenspeares.co.uk/
For The Low Waste Lovers…
Apricity 
Apricity holds a strong focus on low-waste cooking and sustainable food sourcing, from small-scale farmers to locally foraged ingredients. Their array of menu's offers weekday and weekend lunch menus, including tasting menus offering both meat and plant-based options to accommodate your tastes. Mouthwatering words right there! For Apricity, their sustainable focus goes beyond the food menu, in their efforts to create a zero-waste restaurant front working with specialist interior designers to help this come to life
Apricitiy's holistic approach to sustainability, makes them one of our favourites on this list. (Not just because of their huge plethora of consciously sourced wines) 
Location : Mayfair
Website: https://www.apricityrestaurant.com/ 
SILO

SILO is an amazing zero-waste restaurant where everything is thoughtfully sourced and prepared with sustainability in mind, from the food to the furniture. They've got everything from delicious vegan options to incredible meat dishes, all made with locally-sourced ingredients. And the best part? They're completely waste-free! They use reusable containers, composting systems, and even have an on-site garden for growing fresh produce. It's a truly unique dining experience that not only tastes amazing but also helps the environment. You've got to check it out!
Location : Hackney Wick
Website: https://silolondon.com/
We chat to Annie Phillips, founder of MBA about the launch of her first collection "Nana's Closet"
Read More