In Sustainability News This Week
Check out this week's news in the world of sustainability, brought to you by Besma Whayeb…
In this week's headlines…
Selfridges Hosts The Ultimate Fashion Swap Shop For FREE
Selfridges is hosting the ultimate fashion swap shop this summer in collaboration with LOANHOOD – and it's free! Simply book your time slot online, bring along up to five items of preloved clothing, and get swapping.
The UN Launches Sustainable Fashion Playbook
The United Nations has launched the Sustainable Fashion Communication Playbook, calling on the global fashion industry to align efforts to meet sustainability targets. The 102-page PDF notes that reducing consumption, increasing consumer knowledge, and shifting consumer behaviours are crucial to reducing the overall impact of the sector.
Low Emissions Zones Improve Health
A study published in medical journal the Lancet has confirmed that low emissions zones are benefiting people's health. Five of seven zones studied showed clear reduction in heart and circulatory problems, with fewer admissions to hospital, and even fewer deaths. With only a handful of zones in the UK at present, we hope to see more schemes launched. 
Meta's New Threads App Has Arrived
Meta's new Threads App has arrived, with over 100 million users joining the platform in just a matter of days (including us!) But what are the ethical implications of the new app? While it may be a breath of fresh air from Twitter, critics warn of privacy concerns.
Barbie Movie Hype Reaches Fever Pitch
And finally, the Barbie Movie hype has reached fever pitch, with its upcoming release next Friday. However, life in plastic can only be fantastic if we keep our planet in mind, so instead of splurging on Barbie collabs, check out our curated guide to ethical pink picks for your next dopamine hit.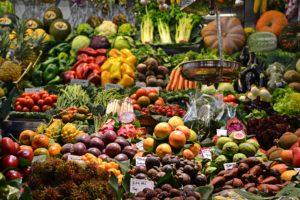 How can we improve our food systems to make them work better for us and the planet?
Read More