We chat to Genia Mineeva, founder of BEEN London about the innovations the brand is making towards a more sustainable future
Fashion has always been about making a statement, and BEEN London is making one with their sustainable approach to style. The brand, founded in 2018, has quickly become a go-to for those seeking ethically made clothing that's both fashionable and environmentally friendly.
At the heart of BEEN London's ethos is a commitment to reducing waste in the fashion industry. The brand uses eco-friendly materials like organic cotton, recycled polyester, and Tencel, a sustainably sourced wood pulp fiber. This not only helps to protect the planet but also ensures that the clothing is of the highest quality and comfort.
BEEN London's designs are inspired by the streets of London, and the brand has a unique approach to creating its collections. Instead of following traditional seasonal releases, BEEN London focuses on creating timeless pieces that can be worn year-round. This not only reduces waste but also ensures that customers can invest in pieces that they'll wear for years to come.
The brand also prioritizes transparency and ethical production. All of its clothing is made in fair trade factories in India, ensuring that workers receive fair wages and safe working conditions. BEEN London is also committed to reducing its carbon footprint, using shipping methods that are as sustainable as possible. From their oversized denim jackets to its relaxed-fit dresses, the brand offers a wide range of pieces that can easily be dressed up or down. BEEN's clothing is suitable for a variety of occasions, whether it's a day at the office or a night out with friends!
BEEN London is a brand that is making a real impact in the fashion industry. Their commitment to sustainability and ethical production is admirable, and its clothing is fashionable, comfortable, and suitable for a variety of occasions. Whether you're a fashionista or an eco-warrior, BEEN London is a brand that you'll want to have in your wardrobe.
Today we are in conversation with the brand's founder Genia Mineeva to talk about sustainability and what makes BEEN London stand out from the crowd.
What inspired you to start BEEN London, and how did sustainability become a key focus of your brand?
It all started with a documentary! Back in 2017 I was an ex-BBC news journalist with a relatively successful career in communications (I was a comms director at Change.org at the time). The film was about how little of the waste we're creating actually gets recycled. As a total do-er I instantly decided to see if I could do anything about it and found myself experimenting with various products made from discarded materials. This is how BEEN London was born. The idea was to take materials that usually get discarded and turn them into something fun and practical. 
It was clear to me (I did get a degree in sustainability at around the same time) that not taking anything new from the planet was key to reducing co2 emissions and making a really cool low impact product. A couple of years later we diverted over 2 tonnes of waste from landfill and created thousands of products with a carbon footprint 87% lower than anything on the high street. 
In your opinion, what are the most pressing sustainability issues facing the fashion industry, and how is BEEN London addressing these issues?
I always say that the biggest issue of the industry is that it's traditionally been putting profits above everything else. Over the years this created a really wasteful culture and one of the most polluting industries in the world. 
I guess we're unique in a sense that we managed to put impact first and still become a profitable business without cutting any corners. 
From the very beginning we only use certified recycled materials for EVERYTHING, we cut patterns using zero waste techniques, we manufacture locally  and we measure every bit of our impact to keep improving. 
What steps have you taken to ensure that your products are produced ethically and sustainably, from sourcing materials to manufacturing and distribution?
We seem to be known in the industry as the guys who are doing it all. Circular materials, end of life recycling, free repairs, shipping by sea and bike and everything in between. The culture at BEEn London HQ is to constantly review every step of our supply chain and see how we could do it better. 
How do you think consumers can play a role in promoting sustainability in the fashion industry, and what can they do to support ethical brands like BEEN London?
Our customers are the only reason we exist! All our work is to help them have a positive impact on the environment and people through their everyday choices. So do spread the word, recommend us to friends and get your next handbag or a make up pouch from us!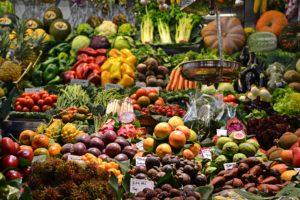 How can we improve our food systems to make them work better for us and the planet?
Read More »