If You Love COS, Then You'll Love These 6 Sustainable Brands
The world of sustainability is incredibly complex. Even the sustainability advocates we know and love have previously fallen for the allure of fast fashion retailers like COS. Nowadays shopping sustainably has never been easier. There are a slew of up-and-coming brands with fashion-forward alternatives, if you're hoping to make small changes to your shopping habits. 
Of course, the most sustainable option is shopping your stash and second-hand shopping before investing in new pieces but the journey towards sustainability isn't always as straightforward as quitting shopping altogether. We all like acquiring something new now and again but by lessening your shopping frequency, swapping big retailers for small and paying attention to detail (from compositions to supply chain), you can make a change. 
Shopping more sustainably is a process that starts with a change of mindset and how you view the shopping process. My teen years were spent thinking a successful shopping trip equated to bags upon bags, but I now have a healthy, mindful approach to shopping. Sometimes it looks like abstaining and other times it looks like treating myself to a much-coveted piece on my wishlist and strictly investing in 'forever' pieces.
Over the last few years, I've sought brands that are intentional in their approach to clothing production. If you're looking for alternatives to your high street favourites, you'll appreciate these brands that are producing smaller, more thoughtful curations that are designed to span years of  use. Keep reading for the 7 independent brands that may tickle your fancy and make the swap that bit easier.
A Day's March
If you're big on contemporary styles and androgynous fits, look no further than the Swedish brand, A Days March. Founders Marcus Gårdö, Pelle Lundquist, and Stefan Pagréus produce 70% of their collection in a family-owned factory in Portugal, Porta. The brand philosophy centres on clean cuts and transitional pieces that make up the foundation of a wardrobe. If you're looking to curb your affinity with COS and Arket, you're bound to be tempted to swap for this considered brand.
With Nothing Underneath
With Nothing Underneath first came to my attention in 2017 when I spotted their lapis boyfriend shirt doing the rounds on Instagram and it's still one of my favourite summer pieces. Since then, they've taken off and introduced an array of shirted offerings and billowy shorts to match. They've honed in on British heritage style and specialise in menswear shirts in a selection of printed, classic and block colours, that can be worn both at home and away. Think worn-in shirts, in hues that are always classic.
Black to Grey
Black to Grey is an independent brand that produces seasonal capsule collections (some of which are made-to-measure). They offer androgynous and tailored shaping with some dresses thrown in for good measure (if like me you can't pass up the opportunity to wear a dress). They recently collaborated with Aussie label, St Agni.
Yaitte
Yaitte cites itself as a brand 'grounded in a conscious and considered mindset', which is a breath of fresh air. You only have to take a brief gander at the site to notice that their curation is considered. From crisp poplin shirts to knitted dresses, they produce pieces with a forever appeal. PS, if you've been swooning over the Totême silk scarf (honestly, you're not alone), check out their Oceano scarf. It's every bit as chic!
Aeron
When I think of high-quality craftsmanship and classics with a swoon-worthy contemporary twist, Aeron is one of the first brands that comes to mind. Most of their pieces encompass their signature 'A' shaped adornment, which sets them apart from the rest. It's a sustainable brand that prioritises quality materials (trust me, their pieces are weighty in the very best way) and keeps inclusivity at the forefront. Their price points are higher than the average UK retailer but their pieces are made to last.
Arkitaip
Lovers of billowy shaping and clothing with a bohemian lilt, look no further than Arkitaip. All of their pieces are fashioned from natural fabrications and their styles range from resort wear appropriate to sartorial staples (like the tailored waistcoat). They recently dropped their 2023 collection, which includes neutral updates to their pre-existing styles. They also offer an assortment of home goods if you're looking to up your tablescape game!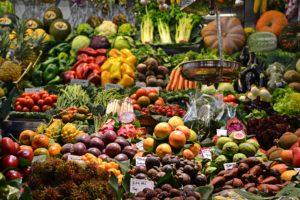 How can we improve our food systems to make them work better for us and the planet?
Read More