The Rise of Resale: A Look At The Current Fashion Resale Landscape
"Globally, there are enough clothes already in existence to dress the next six generations" – Vanish x British Fashion Council.
This powerful and thought-provoking statement, basically sums up all the reasons why fashion resale (along with repair, reuse, upcycle, recycle and renting) is absolutely necessary. But let's dig into it a bit deeper and take a look at the current resale landscape.
If you're anything like us and consume a fair amount of fashion content on social media, you have definitely come across many videos about people's best charity shop finds, best thrift stores in their city, and OOTDs with their thrifted pieces. Hashtags such as #thrifted, #secondhand, #thrifting, and #vintage have billions of views each, and resale platforms such as Depop, Vinted, eBay and Vestiaire Collective are growing rapidly.
Whilst the recent boom in fashion resale cannot be denied, buying and selling second-hand clothing is an old concept which has existed for centuries. Second-hand clothing stalls existed in London in the 1700s to clothe the poor and the rising middle class, and shops such as Oxfam and GoodWill were founded in the early 1900s.
In the past few years however, consumers' demand for second-hand products has increased rapidly. Looking at the most recent statistics, the global market for second-hand products was worth $100 billion in 2022 and is expected to reach $250 billion by 2027 which accounts for 23% of retail sales. This boom is a clear reflection of consumers' changing attitude and consumption habits, as well as a rise in their awareness of the negative social and environmental impact of the fashion industry. An old concept that once had a negative stigma attached to it, is now seen as 'cool' and 'trendy' amongst a relatively large percentage of consumers and on social media. Additionally, the cost of living crisis is one of the contributors to this boom, with consumers' main motivation for buying second-hand products being value for money and affordability.
Who are the key players?
Looking at the key players in fashion resale, the leading platforms in the UK are eBay with a brand awareness of 94% and over 130 million active buyers, followed by Etsy, Vinted, Asos Marketplace and Depop as shown in the diagram below.
Apart from the above platforms which mainly operate on a customer-to-customer (C2C) basis, many fashion retailers have also introduced their own resale platforms. A few examples from the highstreet include Zara Pre-owned and COS resale, online platforms where customers can buy and sell second-hand Zara and COS pieces respectively. An example from the luxury sector is Valentino Vintage, an initiative by Valentino launched in 2022 asking customers to take their vintage Valentino pieces to selected stores in exchange for store credit. The submitted pieces were evaluated and made available to purchase.
The launch of resale platforms by luxury fashion retailers can be mutually beneficial for both retailers and consumers, creating a win-win situation. The retailers can have more control over their customers' shopping experience compared to when they shop from C2C platforms. For instance, they can ensure their customers get the same luxurious experience when shopping second-hand as they get when buying new products, offer great packaging, and ensure the pieces sold are authentic, all of which can lead to increased customer satisfaction and loyalty.
The Future of Resale
With the expected growth of fashion resale in the coming years, it is safe to assume that resale platforms are only going to get better, bigger and easier to use. There are currently several major challenges for fashion resale such as returns, sizing and authenticity issues. On most resale platforms and second-hand shops buyers cannot return the items they purchase, even if they don't fit them which practically makes the items unwearable. The option to return purchased clothing is one of the key purchase criteria for consumers, and when shopping second-hand, consumers don't have the luxury of purchasing the item in a few sizes, and return the ones that don't fit. Sellers are encouraged to provide accurate and detailed description of the items, for instance, mention whether the items are true to size, or run slightly smaller or bigger. But is that enough to make a clear the buyers doubt regarding sizing and fit? 
My personal prediction is that we will see technology stepping in to help with this issue. Whether that is 3D body scanning to give us our accurate body measurements and predictions of what size would fit us the best, or virtual try-ons enabling us to virtually try on the clothes before we buy them; or a maybe a completely new technology that we've not heard of yet. Regarding issues of authenticity of the second-hand products, particularly on C2C platforms, digital products passports and blockchain technology can be revolutionary. They enable consumers to instantly access product information across its entire value chain and determine whether that product is authentic or not. Blockchain technology is expected to help fight luxury counterfeit issue, with the LVMH, the world's largest luxury group which owns brands such as Louis Vuitton and Dior planning on using this technology to authenticate and track their products.
To conclude, fashion resale provides an eco-conscious and cost-effective option for consumers seeking to add new items to their wardrobe, all without contributing to fashion's waste, overproduction and sustainability issues. With the introduction of new technology and more retailers launching their own platforms, the future of fashion resale appears bright and promising, and we are so excited to witness that!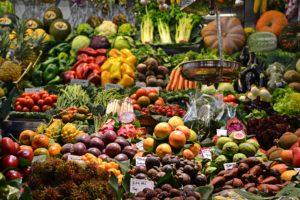 How can we improve our food systems to make them work better for us and the planet?
Read More