Ethical Wedding Outfits For Your Summer Nuptials
Summer's on the way, and so is wedding season. Whether you're a bride-to-be or gracing multiple guest lists, you'll need some elegant attire to see you through the next few months in style.
I've scoured the eco-internet to find ethical wedding outfits suited to all occasions, from "Hen Dos" to bridal gowns and the perfect guest looks! Think of this as your ideal opportunity to invest in sustainable occasion wear that won't only serve you for celebrations this summer, but for many special days to come.
The Engagement Party
It's the party before THE party. Engagement celebrations typically call for a cocktail or longline dress, depending on the venue and dress code. When shopping around for your perfect look, seek out preloved options or ethical fabrics like sustainable viscose and organic cotton. For those getting married, you may want to use this outfit as a subtle nod to your future wedding gown. 
The Hen Do
Finally it's time to let loose and have fun with the girls, and you need a look that's both comfortable and fits with the party vibe. Mini dresses and figure-hugging bodycons made from recycled fabrics are guaranteed to have you dancing til dawn.
When on a Hen, you'll likely be hopping between bars and activities, so it's important to find an outfit that you can feel good in all day (and night!). Again, if you're a bride, you might want to opt for a white dress in celebration of your upcoming "I dos".
The Rehearsal Dinner
A rehearsal meal with friends and family is the final countdown before a wedding day. Opt for an elegant dress or smart co-ord set if you feel like switching up from frocks.
You may choose to rent or re-wear an engagement party outfit, (let's embrace outfit repeating) but if you want something brand new, look for sustainable pieces that have the versatility to be worn at events in the future.
The Wedding Dress
It's arguably the most important outfit choice you'll ever make. Picking your wedding gown is deeply personal, so don't be afraid to stray from tradition. Whether you want short, long or perhaps not even a dress at all, go with what makes you feel the most beautiful.
To keep things super planet-friendly, you might want to rent or buy your wedding outfit preloved, but when shopping new, look for ethical fabrics like sustainable silk.
The Bridal Party
Finding an outfit all bridesmaids like and feel comfortable with is a tricky task. Try to find dresses that have some kind of uniformity and complement the bridal gown in both shape and shade of material. Sustainable fabrics like satin and linen are luxurious and breathable for summer weddings, keeping your bridal party feeling and looking their best.
So often these gowns are bought as "one-time wear" purchases and left to gather dust in the back of a wardrobe. Invest in a timeless dress that can be worn at celebrations for years to come.
The Guests
It's always a good idea to have a few enduringly stylish wedding outfits on hand, you never know when you'll receive that next RSVP. Opt for versatile dresses, co-ords or suits made with premium, ethical materials that feel comfortable to wear throughout wedding ceremonies and into parties and receptions.
Particularly for summer weddings, source outfits made using materials like organic cotton. This fabric is not only airy and breathable for outdoor celebrations but is also kind to our environment.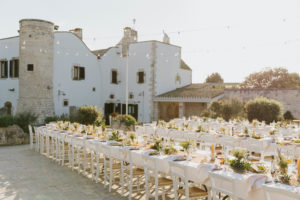 Sustainably Influenced favourite, Charlotte Stavrou, shares her tips for having an eco-friendly wedding in 2023
Read More
Are you searching for ideas for an eco-friendly hen do for your best friend? From simple elements to a program of activities, we have got you covered. Let's make her hen do unforgettable while honouring those green values!
Read More