In Sustainability News This Week
It has been a busy week in the world of sustainability news, Besma Whayeb explains more…
PLT Announces New Collab With Naomi Campbell
Former supermodel Naomi Campbell has been touted as the next collaborator with hyper fast fashion brand Pretty Little Thing. What will be in the collection? Perhaps throwable phone cases and blood diamantes? We'll wait and see.
ASOS Desperately Launches £5 Sales Website
If you thought ASOS couldn't get any worse, guess again. Under the pressure to alleviate its debt refinancing, ASOS has launched the ASOS Sample Sale site, with all products selling for just £5. While it may create a buzz, doesn't it simply highlight how most of their products are probably made for less than £5, meaning low wages for garment workers and low quality goods?
The Possibilists 2023 Study Published
The Possibilists, a global community for young changemakers, published its 2023 report of data-driven insights into the impact, lives and needs of global climate activists. From the survey of 1600 young changemakers from 135 countries around the world, it found the main barrier to climate action was a lack of personal financial security.
Is This The End For The Vampire's Wife?
The Daily Mail has revealed that cult luxury fashion brand The Vampire's Wife could be going into liquidation, after not paying its fair share of tax to HMRC. The brand, known for its glittery, gothic style and celebrity fans, had only just announced a new collection earlier this week. Will this be the wooden stake to the vampish fashion brand's heart? 
World Experiences Hottest Day Ever
And finally, if the UK experiencing the hottest June ever wasn't enough, the world experienced its hottest day ever on Monday. Scientists say to expect more records to be broken this year as climate change continues to increase severe weather events globally.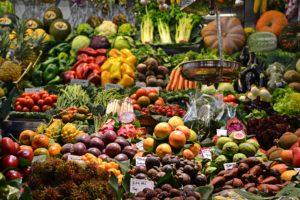 How can we improve our food systems to make them work better for us and the planet?
Read More »