Eco-Friendly Perfumes For Every Fragrance Lover
Beyond the realms of food and fashion, a subtle yet significant revolution is taking place within the beauty sector, with sustainable perfumery emerging as a beacon of conscious consumption. Much like the five fundamental "R's" – Reduce, Reuse, Recycle, Rethink, and Repair – that drive sustainable practices, the fragrance industry is redefining luxury by harmonizing scent with environmental responsibility. As society witnesses a paradigm shift in its values, this article delves into the captivating realm of sustainable perfumes, exploring how this olfactory art form aligns with the ethos of sustainability, and how the beauty industry is making strides to catch up with the precedent set by its counterparts in other sectors! 
But do you know which brands really live up to their sustainability claims?  Don't worry if you are unsure, keep reading to find out more about the best perfumes to add to your Wishlist…
Miller Harris
Miller Harris offers a range of cruelty-free perfumes made with high-quality natural ingredients and sustainable practices.  We love the Leather Rouge Eau De Perfume (100ml).  With top notes of raspberry, smoke, saffron and base notes of amber, you're in for a complex and intense journey with unexpected twists.
Floral Street
Floral Street continues to be a great option for sustainable and cruelty-free perfumes, with their focus on vegan ingredients and eco-friendly packaging.  We love the Floral Street Ylang Ylang Espresso Eau de Parfum, (50ml). This is made up of a blend of red rose, ylang ylang and jasmine with just a dash of  fresh cream and sichuan pepper – truly a fragrance to get lost in.
Le Labo
Le Labo is a well-known brand that offers a range of high-end, handcrafted fragrances made from sustainably sourced ingredients. They prioritise ethical production and offer refill programs to reduce waste. We love Le Labo Santal 33 (50ml). This is an intriguing scent with notes of cardamom, iris, violet along with the warm depths of leather and musks.  This cult favourite is a best seller loved by all.
Vrayo
Vyrao's commitment to elevating energy is mirrored in their radical transparency on environmental, social, and cultural concerns. The brand operates responsibly, partnering with ethically-aligned companies and prioritizing sustainability in their fragrances, composed of predominantly natural, certified organic ingredients. They also ensure that their products are vegan, cruelty-free, gluten-free, and ethically sourced.  We love Vyrao I Am Verdant Eau De Perfume (50ml) 
Clean Reserve
Clean Reserve offer sustainable and environmentally conscious, cruelty-free fragrances fragrances. They are committed to using responsibly sourced ingredients and eco-friendly practices. Clean Reserve's perfumes are crafted using a blend of natural and synthetic materials to create unique scents while minimizing their environmental impact. They focus on transparency and ethical production. We love Clean Reserve Acqua Neroli Eau De Parfum (100ml). With  a mix of sweet jasmine and base notes of sandalwood and neroli – this scent is a favourite for all.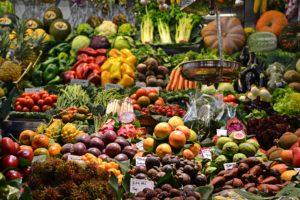 How can we improve our food systems to make them work better for us and the planet?
Read More