Making Food Systems Work For People And The Planet
From vegan diets to eating local it is pretty hard to work out how we eat the right things for ourselves and for the planet.  In a year of rising temperatures, terrifying weather extremes and a global cost of living crisis, the topic of food is more important than ever. We attended the UN Food System UN Food Systems Summit +2 (UNFSS+2) in Rome last month to dig a little deeper. 
"Global food systems are broken" was the headline message from UN Secretary-General António Guterres. Food systems make up a whopping 30% of all global greenhouse gas emissions. People are still going hungry, while others are growing obese or overweight.  
The topic is also pretty political. Food is culture and tradition. Pasta, for instance, remains a symbol of fascist resistance in Italy; following Mussolini's attempts to ban it in the 1930s.
Anyone for carbonara?
Beyond our own consumer choices, actions are needed from governments and businesses to help transform how we produce and consume food on a global level. 
Can we overcome these challenges and create a food system that benefits people and the planet? Read on for our top five takeaways from the Summit.
Food is a complex 'system' and we need to treat it that way
In creating a 'Food System Summit', the UN acknowledged that we have not been treating food as a failing system. The 'system' incorporates the global web of interconnections and interactions between food, natural resources, people, organisations, government, organisms, and the climate.
Potential solutions must consider the entire chain to avoid unintended consequences. Solutions to increase agricultural output must circumvent a reduction in nutritional value and higher environmental impacts. Reductions in red meat consumption must accompany a just transition for farmers and their livelihoods.
Resilience to crisis and shocks
2023 gave rise to the term 'polycrisis'. Soaring temperatures, pandemics, rising food prices — in part as a result of Russia's invasion of Ukraine — and growing social unrest have highlighted the pressure points, injustices and inequities embedded within the food system.  As disruptive shocks become more frequent, it becomes crucial to increase the resilience of production systems and livelihoods, and their ability to adapt to risks. 
Food-importing countries are diversifying food supplies and boosting domestic food production. Producing countries are focusing on adapting to climate change and promoting environmental resilience. This includes addressing issues such as land restoration, water management and soil quality, and adopting agroecological practices and incentivising organic farming.  
Putting people at the centre
Food system workers play a critical role in feeding the world. However, most of them regularly face high levels of working poverty, chronic food insecurity, poor health and safety conditions, and lack of labour and social protection.
This issue is heightened for groups exposed to socio-economic vulnerability, such as women, youth, migrant workers and indigenous people, who are often concentrated in low-skilled, low-productivity or unpaid jobs. Improving incomes, ensuring seasonal workers' rights and driving green job opportunities were high on the agenda. Success requires governments and businesses putting people before profit.
What's in your cupboard?
A focus of the UNFSS+2 was on the need to increase the availability of fresh, healthy and affordable foods that require fewer resources to produce and transport. The event highlighted the role of farmers markets, providing high-quality local produce that supports producers. With each market reflecting the cultural, ecological, and geographic context of the place, farmers markets tap into the deep connection between land, culture and people. Making farmers markets accessible and affordable is key, particularly in high-income countries. 

Small but mighty, the SDG2 Advocacy Hub campaign, Bean's is How is pushing to double global bean consumption by 2028. From edamame to chickpeas the humble bean is a simple and affordable solution to the global climate, health and cost-of-living crisis. Beans release fewer greenhouse gases and help to improve soil and water quality. Beans contain two to three times more fibre than whole grains, and at least double the protein content of many common grains. They are also a more affordable, cost-effective option.
Where's the money?
Alvaro Lario, President of the International Fund for Agricultural Development stated, "If we really want to take people out of hunger, out of poverty, we need investments". It is anticipated that $400 billion is needed per year until 2030 to achieve food systems transformation. Funds are being mobilised but it's still not enough. Especially for low income countries facing increasing hunger and climate vulnerabilities.
Broken food systems are the result of choices we have made. The world is now setting sights on a future where healthy and nutritious food is available and affordable for all. It will not be easy. Huge financial, political and cultural changes will be required to halt current trends and achieve transformation at the scale required. The UNFSS+2 makes sure the topic stays firmly on the menu.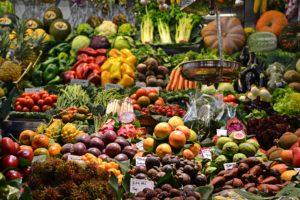 How can we improve our food systems to make them work better for us and the planet?
Read More