Our Editor Picks Her Favourite Rental Pieces From LK Borrowed
Sponsored by LK Bennett
Bianca Foley
I am a huge fan of fashion rental. I would say for most events over the past 2 years, I have rented an item about 50% of the time! Rental allows you to access clothing you may not have ever thought about wearing or introduces you to a new brand you may not have heard of before.  There is something so exciting about being able to wear a piece you may not have been able to buy, but just for one special moment, it's yours. 
But fashion rental goes far beyond events in my humble opinion.  During lockdown I made use of a few rental sites which allowed me to try out every day pieces that were perfect for my return to the office, or to present at a special event. I think that is when it really clicked for me that rental should be considered as a way to consume more mindfully, even on a day-to-day basis! 
I'm a sustainable fashion girly, but I do love clothes and still get that endorphin rush that you get from wearing something "new" and for me rental is a key player in achieving this.  I worked in the corporate world for a long time and that is where I first came across LK Bennett.  Their pieces are classic and quintessentially British – the epitome of style and femininity.  When I heard that they launched their rental initiative LK Borrowed a few years ago, I quite literally jumped at the chance to try it out.  Even though they launched with only a few key pieces; the collection has continued to grow, meaning you can now get your hands on LK Bennett pieces for a fraction of the price, on a monthly subscription, with no commitment and less guilt knowing that someone else will get to love it after you have!  
Keep reading to see my top picks available to rent now and remember to enter 9our competition running on Instagram for the chance to win your own subscription with over £200. 
This Blossom and Navy Jumper is made of sustainable fibres including Ecovero™ and Lenzing™.  The bold print is eye catching and it's cropped style means it is really versatile.
If I had to pick one thing to wear forever, it would probably be this dress. How can I not talk about the colour?! It is the perfect injection of colour we all need in the greyer months.  This dreamy dress is super flattering and is a piece you can wear year round.
This jacket is such a classic. The peplum detail nods to a vintage silhouette.  Pair it with a matching skirt or jeans for an elevated, casual look.
This season's iteration of this coat is crafted in a double-face wool, meaning it is double woven meaning it doesn't need to be lined. I have this coat.  I love this coat. It is so lightweight and easy to wear on warmer days.  
This piece will carry you through the whole of the party season.  A jumpsuit is perfect for every, single, occasion.  If it isn't already, this should definitely be high up on your wishlist! 
Another incredible piece made from sustainably made fibres like Ecovero viscose. This dress would make a great weekend piece. It can be dressed up or down and it incredibly flattering on!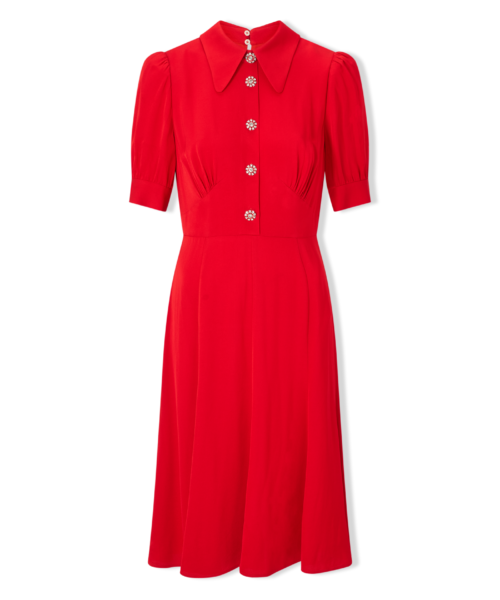 This tea dress is crafted from beautiful cherry red crepe and sports a Seventies-inspired collar with puff shoulders, short sleeves, crystal buttons which add a subtle piece of sparkle. It is incredibly fun and flirty and with its flirty skirt. 
LK Bennett tailored pieces are second to none and this season they have taken this tailoring into trousers.  These definitely tick that box but also gain points for sustainability as they are made using recycled cotton Italian tweed. 
I love how elegant this piece is.  It would work so well with so many of the pieces in the collection so it had to make it into my top picks!  I love the idea of renting simple, wardrobe fillers that would work well with pieces you already own.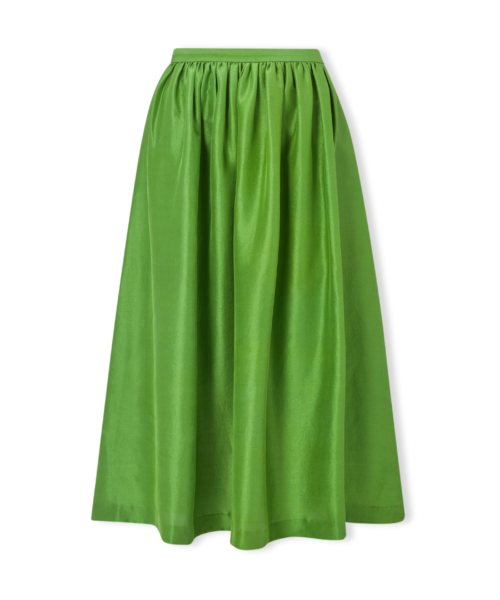 This skirt should definitely feature in your autumn wardrobe rotation. Style it with a a silk blouse, or a fuzzy knit or simply try her with a plain white t-shirt and sparkly accessories. 
The most stylish coffee table books that are worth flicking through
Read More »