8 Stunning Eco Retreats for a Unique Holiday
When we jet off on holiday to relax and recharge, we increasingly look for ways to minimise our carbon footprint. One way to mitigate our impact on the planet is by choosing accommodation that prioritises sustainability and operates in an eco-friendly way. From rustic lodges to super-luxe resorts, there are retreats across the globe that cater to guests keen to take a more active role in preserving the places they travel so far to see. Truly sustainable tourism goes beyond a sensitivity to the natural world, giving back to local communities and helping protect current ways of life for future generations. We've handpicked eight incredible eco retreats to show how a focus on sustainability can create truly unique and unforgettable destinations.
This spa retreat in the Dolomites offers fresh mountain air by the lungful, and has jaw-dropping views that match its impressive eco-credentials. FORESTIS is a family business run by local couple Teresa and Stefan, on the site of what was once a sanatorium. It's been sensitively extended to incorporate luxurious suites and an impressive spa, and care has been taken to use materials from the South Tyrol as far as possible, from stone and timber to fabrics and food.
The spa's ethos comes from its surroundings; this is land where Celts once roamed. The treatments (and accompanying skincare line) are centred around the healing properties of four trees – mountain pine, spruce, larch and Swiss stone pine – whose healing properties complement each other to restore and rejuvenate even the most exhausted traveller. For the ultimate restoration, book a tree circle ceremony that evokes bygone rituals using scent, wood and stone.
There's an indoor-outdoor pool, filled with exceptionally pure water from the hotel's own spring, and a suite of saunas to cleanse the pores and the spirit. Rooms offer sweeping views through floor to ceiling windows, and minimalist interiors of pine, glass and Dolomite stone leave you free to focus on what's beyond the glass. The kitchen aims to be waste free with a locally sourced menu and drinks infused with essences of the surrounding forest. The hotel runs wholly on renewable energy, and will plant a tree for each day you refuse housekeeping.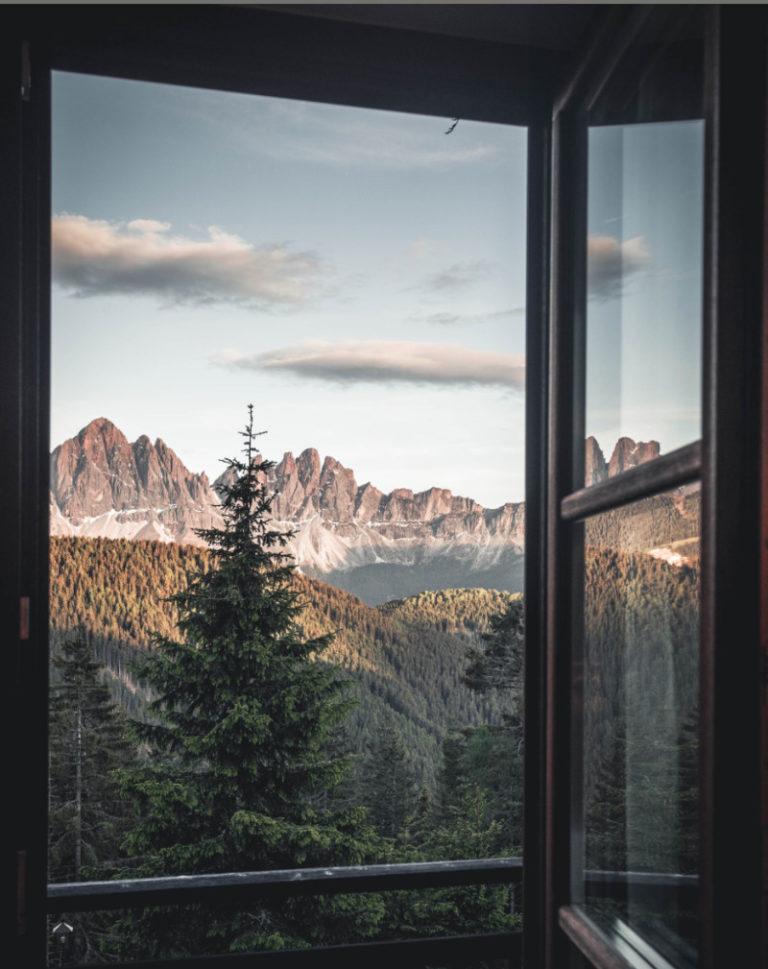 Best for: Design Enthusiasts 
Svart is a truly stunning piece of design and proudly proclaims to be the world's first carbon-positive hotel – when it opens, that is; this architectural gem is due to receive its first guests in November 2024.
The construction is inspired by local building practices, a glossy mass of stone, wood and glass perched atop an ice-blue fjord, blurring the boundary of land and water. Built to the highest energy efficiency standards, including those of the Paris agreement, Svart's goal is to operate fully off-grid within its first five years, becoming entirely self-sufficient in electricity, water and waste management.
The hotel is located at the foot of the Svartisen glacier, just above the Arctic Circle, where you can enjoy long nights in summer and catch a glimpse of the Northern Lights in winter.  Depending on the time of year, guests may indulge in hiking, mountain biking, cross-country skiing and even ice water swimming.
Within the past 100 years parts of the glacier have melted significantly, and the hotel's development demonstrates what can be achieved in countering environmental issues, with what is effectively a blueprint in terms of ultra-sustainability. Svart is owned by Six Senses, a hotel group that focuses on wellness and sustainability, and is being developed with sensitivity to the local municipality, developers and community.
One&Only Mandarina, Mexico
You need to look very carefully beyond the lush rainforest landscape to spot One&Only Mandarina, a luxurious resort in the heart of a biosphere reserve. It's an extensive 88-acre complex on the Pacific coast's Riviera Nayarit with secluded villas and tree houses dotted throughout.
The hotel has been sensitively designed to preserve the landscape and centre local traditions and building practices. Roads and paths carve through the site to protect vegetation and minimise disturbance to the land, and interiors and furnishings celebrate Mexican craftsmanship; everything from blown-glass vases in the bedrooms to breadbaskets at the beach club is created by skilled artisans. Lay your head amongst the trees in a stunning tree house, choose a clifftop hideaway perched on the rock face or book an expansive villa that holds the whole family – all come with private pools and sensational views. 
The resort is packed with beautiful corners – inviting terraces, dreamy infinity pools, welcoming fire pits and irresistible sandy beaches – and offers all manner of restorative experiences that complement the local culture and surroundings. The spa offers Temazcal, a therapeutic ceremony with hot stones and indigenous chanting, and resident spiritual guides can help you channel energy flows to connect with your highest self. Dining options are spoiling and sensational – treetop dining at Carao presents innovative twists on traditional ingredients, family-friendly Alma has a farm-to-fork ethos and the Jetty Beach club serves up delicious catch of the day.
For a rejuvenating trip immersed in nature, head to Tierra Patagonia, a stunning eco-lodge just outside Torres del Paine National Park. The innovative design blends the property seamlessly into the surrounding landscape, a pampa that is completely revitalised thanks to the hotel's ongoing conservation work.
Views are utterly mesmerising and bedrooms are warm and welcoming, constructed with local wood to reinforce your connection with the surroundings. Patagonian textiles and rugs add warmth and comfort, and the glass-panelled spa offers an infinity pool, steam rooms and treatments as well as an outdoor hot tub. Spaces are lit with low-energy LEDs, energy-efficient boilers provide heating and 100% of water comes from the hotel's well. 
Huge care has been taken to be respectful of and responsive to the natural surroundings. The building's shape is as if it's been moulded by Patagonian winds, and during construction, on-site vegetation was removed, stored and replanted on site once works had finished. Tours hero the local culture – explore a nearby estancia (ranch), discover native flora and fauna, share an asado (barbecue) or take a horseback ride with the gauchos. The hotel also supports an ambitious reforestation project that aims to plant one million trees across Chile's national parks.
Ouirgane Ecolodge, Morocco
Best for: Sanctuary Seekers
A traditional Berber guest house, Ouirgane Ecolodge offers the warmest of welcomes in the rugged Atlas Mountains, where you can spend a few nights amongst breathtaking scenery and the starriest of skies.  It's a tranquil sanctuary which offers welcome respite, especially if you've just spent a few days in the capital's medina.
Located beside Toubkal National Park, this is a locally-owned guest house crafted from natural materials, using traditional architecture and building techniques. Water is heated by solar panels, the garden is kept lush thanks to intelligent irrigation systems and low-energy light bulbs and biodegradable cleaning products are used. 
Rooms are gorgeously decorated, with local textiles in rich jewel colours, and look out onto the surrounding mountains. There are gardens to relax in and a swimming pool for a leisurely dip – or you can book a treatment in the hammam to help you unwind. Bring plenty of layers for nighttime, as stargazing can get chilly beneath the clear skies. When dawn breaks, if  you can bear to leave this restful haven then there are excursions on offer – guides from the surrounding area run a number of hikes, mountain bike trips and cooking classes.



Best for: Off The Grid Aficionados
This gorgeous eco-friendly camp on a small island in the Okavango delta harks back to a traditional safari lodge. It's built entirely in sensitivity to the surrounding landscape, so you'll find trees penetrating roofs and floors, windows without panes of glass and elevated areas contrasted to avoid disturbing the vegetation below.
Homely chalets are positioned to make the most of the incredible delta views, and are made from reeds (lethka) according to centuries-old techniques. Sourcing building materials in this way supports the local Xaxaba community, whose skilled artisans have also crafted the camp's furniture. Whilst accommodation is simply-made, it's perfectly comfortable, with hot and cold running water, a shower, mosquito nets and (solar powered) electric lights. For a truly memorable stay, book the treehouse which offers unbeatable views for those who can stomach sleeping 30-feet up.


Delta camp's aim is to be sustainable by using less energy to begin with, so there are no generators or other machinery on site. There are no vehicles either – safaris are conducted by private professional guides on foot or by mokoro (dug-out canoe). This means the whole place is blissfully quiet, offering a rare, truly peaceful escape.
Best for: Trend Setting Travellers
You won't have stayed anywhere quite like The Culvert, an impressive eco-friendly resort in the Sarawak rainforest on the island of Borneo. Guests are hosted in refurbished concrete culverts, with beds appearing almost suspended and spanning the width of each structure. It's an arresting sight, with the brutalist finish of the recycled materials contrasting pleasingly with the lush vegetation that surrounds.
The minimal footprint of these bijou rooms – choose from two types, Suite or Standard, both with air conditioning – has allowed for the encompassing environment to be carefully preserved. Outside, there are swings and deckchairs for lounging, a sauna and two infinity pools, including a sound pool which uses vibrations to promote healing. You can stroll to the hotel's private beach in a couple of minutes, or head up to the clifftop deck to watch the sensational sunsets.
When you're ready to explore, the hotel can organise tours with local operators including hikes up Mount Santubong, where you can spot native wildlife and gaze out over the rainforest canopy. Alternatively, take a boat through the mangroves or visit Sarawak Cultural Village, a nearby tourist attraction that promotes Malay customs and culture.
Nimmo Bay Wilderness Resort, Canada
Best for – sustainability-minded sybarites
This tranquil, family-owned retreat in the Great Bear Rainforest can only be reached by air or water. Here, you're immersed in serious luxury deep in the Canadian wilderness, where you can reconnect with nature and leave the stresses of everyday life behind.
Founders Deborah and Craig and their dedicated team are focused on providing great experiences for their guests, tailoring stays with bespoke adventures such as whale-watching trips and foraging excursions. You can even book a relaxing massage in the heart of the forest, where the surrounding birdsong and cascading waterfalls amplify your therapist's healing touch. There's no swimming pool – just the expansive icy waters of the Pacific – but you can warm up a cedar hot tub or paddle out for a stint in the floating sauna.
The menu here is underpinned by an entire philosophy that celebrates the bounty of land and sea, with a focus on sustainable ingredients – think locally caught seafood, meats from livestock  raised on nearby land and seasonal fresh produce – with wines and spirits made in British Columbia.
The resort is not short of innovative sustainable solutions, including a hydro power system that provides clean drinking water and up to 80% of the resort's power needs. Nimmo Bay also lobbied in support of banning Grizzly bear hunting in the province, offering complimentary bear viewing trips as an incentive for hunters to forfeit their licences (hunting Grizzlies is now forbidden in British Columbia).
You've heard about Greenwashing but now there's a new term on the block…
Read More