Ten Ways To Make Your Christmas More Sustainable This Year
Harriet Saywood-Bellasario
The festive period comes full of excitement, joy, and lights. But in a world where we are reminded of the impact of the climate crisis, sometimes the excess of Christmas can weigh on our minds.
It is thought that around 19% of gifts at Christmas end up in landfill, according to a study by the UK Gift Card and Voucher Association, whilst *food waste goes up by 30% compared to the rest of the year, with one in seven Brits buying more food than they need. This festive food waste is thought to be the equivalent to 42 million dishes of Christmas food*; that's enough to feed two thirds of the UK on Christmas Day.
It is however, important to enjoy this time, be it with loved ones, friends, family, in our own souls, recouping and refilling our cups with rest and joy. We absolutely can have a more sustainable Christmas with all the joy and love that it brings, whilst doing it thoughtfully, being more conscious of our planet.
In the spirit of bringing festive joy for us and the planet, here are ten ways to make your Christmas more sustainable this year (and every year):
1) Make Your Gift Wrapping Sustainable And Beautiful; Choose More environmentally Friendly Gift Wrap
Did you know that glossy gift wrap is coated in plastic and a nightmare to recycle?! If you can opt for simple paper, from recycled, without glitter or gloss, this can be more easily recycled for longer, and you can even decorate it yourself. Even better, reuse existing paper, which can make for fun gift wrap, be it newspapers, magazines, reused wrapping paper, or even try old fabrics and scarves; it doesn't always have to be fresh and new. If you wanted to add a ribbon, choose natural fibres like cotton and linen, or unwaxed string. Add a sprig of rosemary or eucalyptus if you have some in your garden for decoration. Limit the sellotape and you could even reuse your gift wrap next year.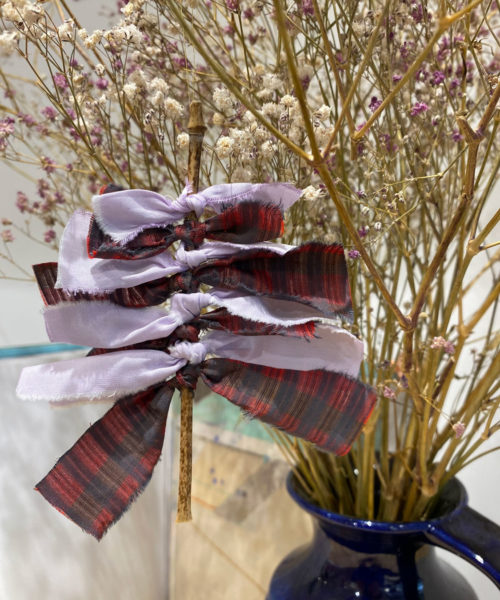 2) Sustainable Christmas Decorations
The most sustainable decorations are the ones you already have. But if you are buying new, go plastic free. Plastic is derived from crude oil, and is frequently ending up in our oceans, damaging marine life. Choose a more eco-friendly option this year, made with natural materials like wood, or cotton fabrics. These check and plain fabric offcuts and bamboo stemmed Christmas Trees by Saywood make for cute sustainable decorations you can reuse every year. Or make your own decorations from leftover fabrics, paper, cards or dried oranges.
3) Repurpose Christmas Cards
Repurposing Christmas cards is such a good way to reduce waste and utilise cards for longer; some of them are so beautiful it's well worth it. Set yourself up in front of a movie after Christmas and cut out all the pictures from the cards, in whichever shape you prefer: they'll make for beautiful gift tags next year.
4) Reduce On Food Waste This Christmas
Christmas leftovers are delicious, with a bit of mash potato or great made into a soup. But even before you get to the leftovers, there can be waste. Sprout stems, broccoli stems, carrot tops etc; often wasted, these can all be used for now tasty recipes; we made some delicious broccoli and ginger burgers from the stems! Search for some recipes to get inspired, or use the Olio App to share food that will otherwise go to waste.
5) Enjoy Low Intervention Wines
The festive fizz may be out, but choosing low intervention wines – often labelled organic or natural – can be a great way to enjoy delicious wines whilst supporting better ways of farming. Not only is this beneficial to the planet and soil, with less pesticides and fertilisers use, with a more natural growing season requiring less water, but low intervention keeps any additional preservatives and colourants to minimum; better for the day after too. Forest Wines is great for low intervention wines, even better if you can go for a locally sourced option. Ask your local wine seller what they would recommend. (Always remember to drink responsibly.)
6) Shop Local, Shop Independent
Whether you're doing your Christmas gift shopping or food shopping, committing to independent and small businesses and brands as much as possible not only gives the gift of something totally unique, with a story behind it, but it really supports these businesses to grow. A high street without independents would be a very dull one, and your loved ones will be chuffed to receive something extra special. And when it comes to shopping local, this is perfect for those foodie bits, even if it's just a few; those extra special cheeses, some delicious wine, local meats and sprouts from local farms. It keeps the carbon footprint low and will likely be grown at a slower pace with less fertilisers and pesticides used. Good quality, from just down the road.
7) Shop Early To Avoid Last Minute Speedy Shipping
Couriers hardly get a moment's break at Christmas time. By shopping early, you can save on next day delivery by going standard, and bundle up; this can lower your carbon footprint and there's no panic if the gift will arrive in time, plus you help support businesses by spreading the load. Most importantly, it gives you time to enjoy the festivities with your loved ones!
8) Go Homemade
From homemade gifts and chutneys to homemade Christmas cards and decorations. Yes this requires a bit of time and forward planning, but using what you have at home and craft materials can be so much fun and gives that extra thought to those treats. Because you're making it, you'll find it easier to opt for more environmentally friendly materials, and it can be fun for all the family to get involved.
9) No Time For Homemade?
If you're sending Christmas cards this year, charity cards are such a good way to share greetings whilst supporting those in need, and there's so many beautiful eco-friendly options out there too!
10) Make Someone's Day With Crisis at Christmas
This is such a wonderful initiative from Crisis. Rough sleeping has risen by 26% this year alone, according to Crisis. Each year Crisis at Christmas supports those experiencing homelessness with a warm place to stay, hot meals and a Christmas dinner, access to health and wellbeing support, such as dental and haircuts, and provides support to leave homelessness behind for good. If you are able to support Crisis at Christmas, this is a gift that truly goes a long way. You can find out more about Crisis at Christmas here and if you would like to support them you can do that here.
Be merry and joyful, and have a more sustainable Christmas this year.
*businesswaste.co.uk
Our Bumper Sustainable Gift Guide Is Here & You Won't Want To Miss Out
Read More