9 Wardrobe Staples For A Conscious Consumer
In a world that champions compulsive shopping habits, slowing down to consciously consume is needed more than ever. By actively choosing to curate a wardrobe of eco-friendly, timeless clothes (rather than overflowing it with cheap debris), you can connect to a style that feels authentic, whilst also protecting the planet. 
Ever-changing and impossible to keep up with, shopping for fast fashion trends will only burn a hole in your pocket. I now try to shop with purpose and consideration, investing in sustainable pieces I'm confident will get my love and wear for years to come. Here are 9 of my versatile wardrobe staples that never go out of style. 
Form-Fitting Tanks
Body-hugging tanks look flattering on everybody. They're a fantastic little layering piece that work great under a chunky knit cardigan or oversized, boxy blazer. Make sure to shop for tops made with quality materials like organic cotton that won't lose their shape or overstretch.
Classic Tees
Nothing says versatility quite like a loose-fitting, minimalist t-shirt. A classic white tee is the traditional styling piece, but having a few block-colour shirts to pair with your favourite jeans is ideal on busy mornings. Seek out premium t-shirts made using responsible fabrics like organic cotton or bamboo.
Cosy Knits
As temperatures drop, we all gravitate towards oversized, cosy knitwear. When shopped consciously, good knits can last a lifetime and have a truly timeless appeal. Look for comforting earth tones and maybe a pop of bright colour for a dopamine hit on dreary winter days. Where possible, try to shop recycled or upcycled wool for minimal environmental impact.
Comfortable Jeans
Few pieces get the year-round wear of jeans. They're a timeless wardrobe essential that deserve to be invested well in. Look for sustainable denim or organic cotton options and make sure to find a fit that feels comfortable for your body, not just what aligns with the latest trends.
Smart Trousers
Having a pair of tailored trousers in your style arsenal will come in very handy for those day-to-night transition outfits. An excellent alternative if you're less fond of dresses on formal occasions, smart trousers pair effortlessly with a boyfriend blazer over tanks and bodysuits.
Breathable Summer Dresses
Whether jetting off to tropical shores or soaking up sun from your garden, an airy, summer dress is a fashion staple. Look for colourful linen pieces that are not only incredibly sustainable but also made from a breathable, natural material that will be your best friend on hot days.
LBDs
The little black dress is an enduring style icon. It will always look like you've made more effort than you have, aka the red lip of the fashion world. A little black dress' simplicity makes it incredibly adaptable, with the ability to be dressed up (or down) depending on your occasion.
Spacious Day Bags
Investing in a roomy, spacious bag is great for days when you need to carry the world with you. They also act as a sustainable (and much more chic) carrier bag for quick shopping trips. I like to seek out unique cuts and shapes to elevate my more minimalist looks.
"Go With Everything" Shoes
In my experience, neutral-toned shoes go with just about everything. Removing the risk of colour clashing, earthy shades subtly complement outfits for complete versatility of wear. Comfort is just as important as style when it comes to shoes, so it's worth buying with brands that prioritise premium craftsmanship and (sustainable) materials.
Longline Coats
While a longline coat will be one of the more expensive investments in your wardrobe, it's one I believe is wholly worth it. This purchase will maintain an everlasting style with each repeating season. Shop a versatile coat that compliments any outfit you throw on, keeping you snug and warm with responsibly sourced fabrics like recycled wool.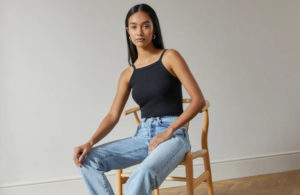 Check out the 9 pieces you need in your wardrobe to build a conscious capsule of pieces you'll love forever
Read More