Use These Products For Glowing Skin Without Harming The Planet
Glowing, dewy, glazed doughnut. Whatever you want to call it, healthy, illuminated skin is a shared quest for beauty lovers. The key to this look is choosing your products wisely and sticking to a consistent daily regimen.
I've created a radiance-boosting product list to form your new skincare routine. The best part? All of these brands are sustainable and focused on protecting our natural world (one pot of moisturiser at a time).
Cleansing is the first, and arguably most important, step of your skincare routine. It clears away dirt and impurities, leaving your face a blank canvas to absorb other products. This pick from green skincare brand Tata Harper contains gentle daily BHA exfoliants to smooth your complexion and encourage new, glowing skin cell regeneration.
Struggle with tired morning eyes? This Biossance eye cream contains powerful, natural ingredients to lift the eye area and limit the formation of fine lines and wrinkles. Featuring a healthy dose of squalane, this cream mimics the body's natural hydrating oils for a dewy sheen.
Your skincare products absorb more effectively when your skin is slightly wet, so this is the perfect time to go in with a toner or mist. Bao Skincare has created this hydrating mist, packed with nourishing rose water, hyaluronic acid and aloe. Glow tip- with each new layer of product, add a spritz of mist to boost your skin's moisture levels.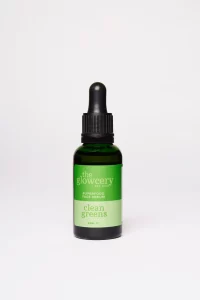 Serums are where all the magic happens. Containing concentrated active ingredients, this is the product that will catalyse a real change in the health of your skin. Clean Greens from The Glowcery is formulated with 20 (yes, 20) antioxidant-rich natural oils to address uneven skin tone and limit breakouts. Put simply, it's glow in a bottle. 
Consider your moisturiser the nourishing duvet that locks in all the glowy goodness you've just applied. This pick from Votary has been created with plant-based ingredients that protect your skin barrier, fight inflammation and, of course, give your skin a supple shine.
Lipcare is all too easily forgotten in skin regimens. If you're like me and suffer from dry lips all year round, keeping them hydrated and juicy with a reliable balm is essential. Natural skincare brand KOBA offers this hydrating and exfoliating lip treatment, that even leaves a subtle shimmer. How much more glow could you ask for?
There is no glow without a good SPF. Sun damage is one of the biggest culprits for dullness and hyperpigmentation, so make sure to be slathering on a generous layer daily (no matter the weather). This broad spectrum SPF from Chantecaille has been designed to protect without compromising on glow. The cherry on top of a radiant daily regimen.
We sat down with beauty expert and founder of newest beauty brand on the block, Ulé to learn all about her skincare secrets and what makes the brand so good
Read More